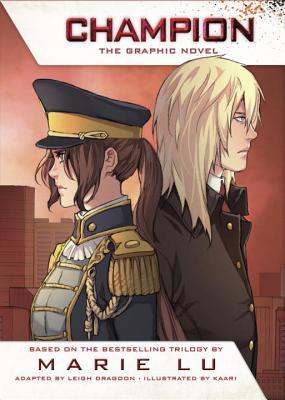 Champion: The Graphic Novel (Legend: The Graphic Novel, #3) Read Online Free - The final book in Marie Lu's best-selling"Legend"trilogy draws to a thrilling conclusion in this vibrant graphic novel adaptation. June and Day have sacrificed so much for the people of the Republic--and each other--and now their country is on the brink of a new existence. June is back in the good graces of the Republic, working within the government's elite circles as Princeps Elect while Day has been assigned a high-level military position. But neither could have predicted the circumstances that will reunite them once again. Just when a peace treaty is imminent, a plague outbreak causes panic in the Colonies, and war threatens the Republic's border cities. This new strain of plague is deadlier than ever, and June is the only one who knows the key to her country's defense. But saving the lives of thousands will mean asking the one she loves to give up everything he has."
Title
:
Champion: The Graphic Novel (Legend: The Graphic Novel, #3)
Author
:
Rating
:
ISBN
:

0451534344

Edition Language
:

English

Format Type
:

Paperback

Number of Pages
:

160

pages
Reviews
---
Joanna (joreadsalot) rated it ★★★☆☆
October 20, 2017
What happened here was that it covered the major parts but it left out the emotional in betweens. I don't know why they didn't just make this longer. It was only 83 pages long on my reader and I thought maybe I was miss g a part but nope, that was legitimately the whole thing. I loved seeing the...

---
Rae rated it ★★★★☆
January 09, 2018
What do you do when you finish the Legend triology and somehow manage to put the broken pieces of your heart back together? Why you pick up the graphic novel and break your fragile little heart all over again, because, why not?! All joking aside, this was an awesome visual aid to the novel. There...

---
Hollis rated it ★★★☆☆
June 29, 2017
Maybe I just misremember details but I feel a whole element to the original was changed.. but honestly that's just made me more determined to make time to reread this series. Love love loved the epilogue/ending.

---
Kelly rated it ★★★★☆
April 29, 2017
I really appreciated how many appearances Ollie made in this graphic novel, even if that one last scene he appeared in was really cruel and unnecessary.

---
Emily rated it ★★★☆☆
March 18, 2018
I really liked that this was in full color and the art was lovely. I enjoy Leigh Dragoon's work. This is such an intricate storyline though that condensing it to this format lost a lot of the nuance. This graphic novel didn't have the same emotional resonance and that's really too bad because it'...

---
JoBeth rated it ★★★★★
January 23, 2018
This is a really good adaptation of Champion! I've begun to really enjoy graphic novels, and this was great! I think it covered all the main points of the book well, and provided a quick edition of the story. Of course, not all of the emotion and connections to the characters are there, but it wa...

---
Erin rated it ★★★★☆
July 12, 2017
wowza that was refreshing

---
Marley rated it ★★★★★
April 25, 2017
This made me remember how much I love this series and how much I miss these characters.

---
MadameMelli rated it ★★★★☆
June 23, 2017
Champion habe ich noch recht gut in Erinnerung und daher bin ich leider leicht enttäuscht vom Ende der dritten Graphic Novel. Ich weiß noch, dass ich die große Wendung und den Epilog mit einem fetten Kloß im Hals gelesen habe und zum Schluss sogar geweint habe. Das konnte die Graphic Novel leider...

---
Kaitlin rated it ★★★★★
June 27, 2017
Even though this isn't necessarily my style and I'm not a huge fan of graphic novels MARIE LU PUT SALT IN MY OLD WOUNDS! Seeing everything happen is fun even if it may contradict my original visualizations. And the part where Day and June finally woohoo is the best because I cried a bit. The endi...

---